The Basics
1
Is Visa or MasterCard accepted in Iran?
No. Even major credit cards, like Visa and MasterCard, are not accepted in Iran. And that's where Mah Card comes in! We help you to transfer your money to Mah Card and use it as a debit card in Iran.
2
Is there a minimum age to get a Mah Card?
Yes, all primary cardholders must be at least 13 years of age.
3
Who provides the Mah Card?
The Mah Card account and a prepaid card are provided by Kasbo Kar Pishro Rah e Abrisham Ltd. The card is issued by our partner bank which is recognized by Central bank of Iran (i.e. the reserve bank).
4
When will I receive my Mah Card?
It normally takes up to three working days to issue your card. Once it's issued we will deliver it to your hotel or hostel. The whole process usually takes less than 3 days. So, you would need to make sure that you signup at least 3 days before your arrival.
5
Can I have/add additional card holder to my account (i.e. for my family members)?
Unfortunately, this is not possible at this stage. We provide one card per person. So, your family members can still sign up and order separate Mah Cards. We strongly recommend that each member of your family or group apply for a separate card as it's safer and more convenient to rely on more than one card.
6
What would happen if I sign up and change my mind?
We don't charge anything when you signup for MahCard. We only charge you when we deliver the card to you. So, there won't be any charges if you change your mind and don't want to receive your card after you complete your registration.
About MahCard
1
How do I sign up for MahCard?
2
What do I need to sign up for a Mah Card?
To sign up for MahCard, you must:
Be 13 years or older.
Provide valid personal information such as full name, email address, passport details (including a copy of your passport), arrival date and the place of stay in Iran. This information will help us to verify your identity via our third-party agency.
Having a valid visa when arriving in Iran (Visa On Arrival (VOA) or eVisa is fine too)
3
Does MahCard perform a credit check?
No. We do not perform any credit or history check on your account. We only verify your identity which is required by our partner bank.
4
Is my personal information secure with MahCard?
Yes, protecting your personal information is truly important to us. We encrypt all data transmitted through our website. We protect this data with multiple layers of security, including leading encryption technology like HTTPS and Transport Layer Security. We also maintain physical, electronic, and procedural safeguards to protect your information. We do not sell or rent your information to anyone. You can read more about our
Privacy Policy
here.
5
What the card looks like?!
This is how our cards look like: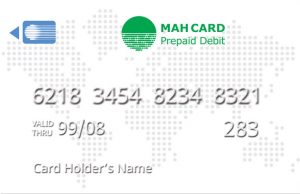 Please note that your card might look different from the above picture depending on which bank has issued the card.
6
Is MahCard accepted everywhere?!
MahCard is accepted anywhere in Iran where bank cards are accepted. Virtually all the stores, restaurants, museums, hotels and entertainment venues accept bank cards. Bank cards in Iran are widely accepted even more than many Europian countries. Even small news kiosks are accepting bank cards with no minimum transaction amount.
7
For how long is the card valid?
MahCard is valid for the duration of your Iranian Visa. Once your visa is expired your card will be expired too. If you wish to revisit Iran and use MahCard again, we can reissue a new card upon your next visit.
Fees and charges
Our fee structure is very simple. We only charge you a €19.00 service fee and that's it! There won't be any fees for ATMs or surcharges for any purchases or transfers.
2
Is there a cancellation fee if I want to cancel my Mah Card account?
There are no cancellation fees whatsoever. You can cancel your account at any time without paying any fees. You can also request to transfer the remaining balance on your card to your home bank account.
3
Do I receive any intereset on the funds that are loaded onto my Mah Card account?
No, the Mah Card is a prepaid debit card and is not linked to any savings bank account. It is also subject to e-money regulations. Therefore interest is not paid.
Using your card
1
How do I add funds to my card ? (Loading your card)
When we deliver your card we give you the option to deposit your cash into your card. That is, we take your cash in a foreign currency and convert it to Iranian Rials and deposit the equivalent in IRR (Iranian Rials) into your card on spot. The other option would be using online funds transfer. You will be asked to choose a payment method when signing up for MahCard.
Your PIN is delivered to you in a separate envelope. For security reasons, we won't include your PIN in the same letter as your card. If you haven't received your PIN, please contact us and we will help you further.
3
Is there any limit on how many times I can load/reload my MahCard?!
No there is not! You can reload your card during your stay in Iran as many times as you want.
4
How can I change my PIN?
Please follow the instructions on the welcome letter which comes with your card.
5
What is Internet PIN or Second PIN?
The Second PIN (AKA Internet PIN or PIN 2) is only used for online purchases in Iran. This feature is something that is only available in Iran. So, you probably have not heard about this before! When you make purchases on Iranian websites, your second PIN is also needed to verify the transaction. Please note that your Second PIN is not included in your Card package for security porpuses. The instruction to activate your second PIN is written in your MahCard Welcome Letter which is part of your card package.
6
Is there any limit on how much I can spend using my card?
No. There is no limit on the amount you can spend using your card.
7
Is there any limit on how much money I can deposit/load into my card?
Yes. You can deposit up to 400,000,000 IRR into your card in total.
8
How long does it take for a transaction to to clear?
All in-person transactions (i.e. using POS machines) will go through and debited from your card instantly. Online purchases and all over-the-internet payments usually clear instantly too. However, they might take up to 48 hours to clear in some cases.
9
Can I use my Mah Card Prepaid Card to get cash over the bank counter?
No. Using your card you can only withdraw cash from ATMs.
10
Where can I withdraw cash?
You can withdraw cash from any ATM machine in Iran. Your Mah Card is using SHETAB Network and all banks and financial institutes in Iran are accepting "SHETAB" cards.
11
Is there any limit on how much money I can withdraw from ATMs?
Yes. There is a nationwide ATM withdrawal limit for every ATM in Iran. This limit is currently 2,000,000 IRR per day. Please note that this limit only applies when withdrawing cash from ATMs and does not apply to purchases you make over POS machines. Unfortunately, there is no way to change this limit for any bank card in Iran.
12
Can l load my card again while I'm in Iran?
Yes. You can reload your card during your stay in Iran. You either load it with cash or using online payment methods.
13
How do I check my balance?
To check your card balance you would need to visit an ATM machine. Any ATM machine in Iran would be able to show your MahCard balance.
14
Where can I use my card to purchase goods?
Like any credit or debit card, your Mah Card card can be used to buy goods and services. You can use your Mah Card card almost everywhere in Iran. As a 'Chip & PIN' card you will simply need to enter your PIN number into the terminal.
15
What will happen to the money left on my card? (Refunds)
At the end of your trip, if there are any funds left on your card, we give you two options to close your account;

1. We can organize cash delivery to your hotel or hostel and give you your remaining balance in cash
in the currency you loaded your card originally with.

2. We can organize an online fund transfer to your PayPal account.
Problems with your card
As soon as you realize your card is lost or stolen log into your Mah Card profile and report a Lost or Stolen Card or contact us via your Mah Card dashboard and we will block your Mah Card immediately. We will then issue you a new card and deliver it to your place.
You will need to use the "Forgot password" link on the login page and reset your password. Please note that your Mah Card PIN is different from your website password. To reset your card PIN please follow the instructions in the welcome letter. or Alternatively contact us for immediate assistance:
https://www.mahcard.com/contact/
Please note that your Mah Card PIN is different from your website password. To reset your card PIN please follow the instructions in the welcome letter. or Alternatively contact us for immediate assistance:
https://www.mahcard.com/contact/