Traveling to a middle eastern country brings up a lot of questions about the clothes you should take with you. Whether you are a man or a woman, being aware of the dress codes in Iran before actually coming here, can make a huge difference in how comfortable your stay will be.
As you might already know, Iran is an Islamic country with rules based on Sharia laws, Which means hijab is an essential element in women's clothes. There are also limitations in men's wear that you should be informed about.
That's why we've put together a guide for tourists about dress codes in Iran.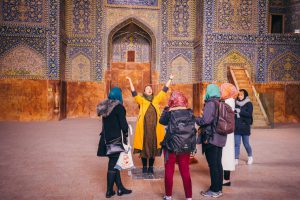 Dress codes in Iran for women
The Iranian attitude to dress code is more casual than you might imagine. Most tourists are shocked to see the way women dress in Iran since they have typically just observed the dark Chador on International News channels.
Since a large number of Iranian women are stylish and take great care of how they look, you might not see Iran's equivalent anywhere in the Middle East.
What should female tourists wear in Iran?
The first step for western visitors is a headscarf! Headscarves are available in different colors and tend to be a part of Iranian women's outfit. It's okay if your hair is sticking out of your scarf because most young girls only cover the top of their heads, but don't mistake them for bandannas, headscarves must cover your neck as well as your head.
It's a different story when visiting shrines and mosques. To enter some mosques, you'll have to cover all your hair using a chador. Chador is a large piece of cloth mostly used by Muslim women, that is wrapped around the head and body leaving only the face exposed.
Don't worry about bringing a chador though, they are loaned in most religious places.
Do tourists have to wear Hijab in Iran?
As long as you are in an outdoor and public place, it's a big yes!
That includes your hotel lobby, cafes, shopping centers and so on.
You can still take off your headscarf in private or women-only places.
How about the legs and body?
Based on the dress code in Iran for tourists, you are supposed to hide the shape of your body. You should wear long skirts or trousers like jeans and cotton pants in line with the seasons.
You can wear skinny jeans or any other tight pants as long as they cover your calves, but since Capris are too short, they must be avoided.
Your top should be moderately loose and fall to nearly mid-thigh. Another option is a summer dress over jeans and a t-shirt. Bare forearms are fine in Iran but you should cover your shoulders.
Manteau
Manteaus are a type of tunic that usually reaches down to mid-thigh. Most women in Iran, prefer to wear a manteau which can be long, short, tight, or loose, and in different colors.
You can get yourself a trendy manteau for 10-25 $ and use it as a light overcoat that covers your clothing.
Footwear
Sandals and open toes are ok for both men and women. Flip-flops are not usually worn in public, except for when you're at the beach or in the desert.
There is a myth that painted nails are not well seen in Iran.
Meanwhile, a lot of women across this country have acrylic nails and colorful nail designs. Therefore, having your toenails or fingernails painted is completely okay.
Makeup
Makeup is an important part of Iranian women's style, especially in big cities. They usually do their brows and wear heavy eye makeup including eyeliner, mascara, and colorful shadows.
But if you're not a big fan of cosmetics, that's cool!
What about the colors?
Since wearing colorful clothes has become very common during the past decade, you can dress in your favorite color palette.
Regional variations
Iran is a big country containing various ethnic groups. As you move across the country you'll get to know diverse cultures and dress codes.
In religious regions like Qom, Mashad, Hamedan, Kerman, Kashan and Yazd people dress more conservatively.
But northern regions like Gilan and Mazandaran are the opposite.
Read more: Local Customs and Etiquette to Follow While Visiting Iran
Indoor clothing
Everything that was mentioned above is only to public appearance; in case you get invited to an Iranian house, feel free to wear whatever you like.
Just don't forget about the religious cities in which women tend to use dark colors in their clothes.
Final points:
If you are going to visit a religious region, try to use loose pants and long sleeve dresses.

In case you are visiting a mosque or other sacred places borrow a chador.

You don't need to remove your nail polish before visiting Iran.

Wearing makeup is not a must, it's just something that most Iranian women love.

You definitely CAN wear flip-flops in Iran but that's not very common.

If you are going to visit schools, government agencies, and embassies obeying the rules is highly recommended.
Dress codes in Iran for men
When it comes to dress-codes for men, there are only a few rules you have to act according to in public
Avoid shorts
You can wear jeans or trousers but you must not wear shorts in the Islamic republic. Of course, they are okay to wear in private places.
No sleeveless vests
T-shirts are fine but you are not allowed to wear sleeveless vests in Iran. Just stick to shirts and T-shirts.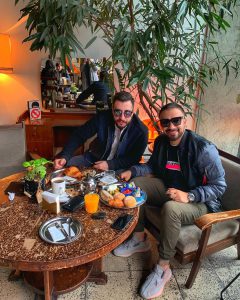 What do women wear in Iran?
Modern women in Iran today, wear long oversized manteaus. The need for wearing hijab not only couldn't prevent them from following the world's latest fashion trends but also turned into an opportunity to develop their unique type of style.
During the past few years, the Iranian street style has picked its way through the fashion world cautiously.
Many Persian fashionistas have been using platforms like Instagram to promote their sense of style and concerning the limitations, they have done a really good job. If you are interested to find out more, look up phrases like Iran street style or Iran Fashion on the internet.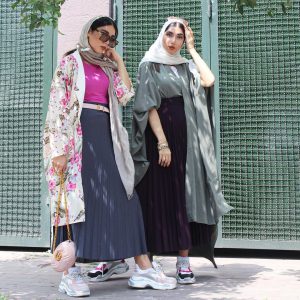 Related Posts