One of the very first things every tourist does upon arrival from a few minutes to a few hours of landing, is exchanging their money. As easy as it may sound it may, in fact, become an obstacle. Especially when your destination country owns a currency you barely know, let alone being physically in touch with it.
Additionally, this might actually become more of a hassle if the subjected country's economic state is at unrest and the rates are constantly fluctuating. You may wonder about the timing and place to exchange your money to lower the chances of facing any sort of problems. Yes, even if you travel regularly circumstances may differ in each country you visit. Although some very general rules might apply to all of them, more detailed matters are the causes of concern. All of these may result in frustration, desperation, and even loss itself.
Unfortunately, this is the case with Iran, a country with an uneasy economy to deal with. It is one of the most famous tourist destinations and is yet an economically unstable country. These destructive thoughts and assumptions can obviously spoil the adventure's excitement. Which is why we have put together all you need to know regarding money exchange in Iran.
Prior to addressing the main subject of matter, we need to point out one thing. Here we have merely focused on where NOT to change your money rather where TO change your money. As we honestly think this is primarily the most principal and essential thing to take note of.
The objective of this article is pointing out the worst case scenarios and to reduce the contingency and susceptibility of financial disappointments. So we ask you to take it at heart.
Where to change and where not to change your money?
This section can be easily put into a single sentence. "Do not change your money at the airport".
That is it!. But the reasons behind this logic are far from having your money stolen and that kind of stuff. In fact, it has a lot more to it.
In the next few paragraphs, we're pointing out key information and giving you logical explanations on why you're better off changing your money at places other than the Imam Khomeini International airport or any airport for that matter.
Despite this fact, reportedly many people tend to actually exchange their money right at the airport, which should not come as a surprise as it's more at hand and often the only way to do that. This typically happens when they're taking a domestic flight to another city in Iran within just a few hours.
Regardless of that here are the four holy reasons:
Four Reasons why you shouldn't exchange your money at the IKA airport:
Exchange Rate Markup
In fact, this is a pretty global reason which applies to every country in the world. Foreign currency conversion rate fluctuations are inevitable in the world of business. But what matters most is the frequency and intensity of these changes and instabilities. These rates change in accordance with the changes in the financial market and exchange centers are free to set their own rates.
As it might already be clear, there may be no currency exchange centers in close proximity of the airport and the exchange centers inside the airport have no competition with any other rival, so that makes them the only choices travelers have especially at times of desperation. To lower the chances of suffering a financial decline and maintain or increase their profit, currency exchange centers at the airports update their currency rates whenever they feel is right in order to achieve their financial goal.
What makes Iran more special is that currency rate fluctuations in Iran happen on a larger scale and are a lot more unexpected and intense. There have been times when these ups and downs went on for quite a while which lead to more confusion. These harsh fluctuations increase the probability of more evident changes. You'll find yourself having to sell your currency at a lower price comparing to the buy/sell rates at the exchange centers. Especially to the ones located in Ferdowsi Street which is the city's money exchange capital.
Higher Fees and charges
As you may have already noticed any goods you pay for are more expensive in the airports. Their identical items in stores and places outside of the airport and in the city are noticeably cheaper. Imam Khomeini International airport also follows this general rule.
Relatively speaking this occurs for quite logical reasons. Stores, booths, cafes, restaurants or any other rented area and retailer in the airport have to pay a facility and operating fee. Currency exchange centers are no exception as they occupy an area and utilize what is called airport facilities.
In turn, they have to make up for these fees and expenses one way or the other, don't they? Customers are the ones who involuntarily and unconsciously entrusted to compensate for these expenses. This compensation strategy takes many shapes and forms. One is having to pay a fixed or variable percentage of the money you're exchanging as a fee. This is usually done smoothly without you even noticing it. What could be worst than coming to this realization when it is in fact too late?
Limited currency options and cash
Initially and without much speculation, you may think of exchanging money at an airport as a time saver opportunity at hand but has it ever occurred to you that there might be in fact an occurrence which you may have looked passed or haven't thought of?
This potential occurrence includes shortage or lack of the currency you need. The question is what might cause this to happen. The answer is quite simple and straightforward. In airports especially the ones with a higher level of passenger commute, the number of people exchanging their money at the airport would increase accordingly, at least there's a high probability of that. This "may" cause the exchange center to come short or run out of your desired currency. The worst case scenario regarding this point is that these centers may even buy and sell currency in inflated rates.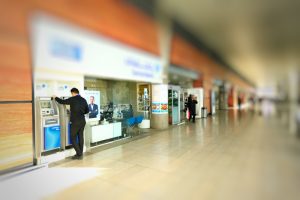 In Iran, there is a high susceptibility to this shortcoming, especially during the times of major economic crisis. Severely floating currency exchange rate may actually take a lot longer to subside. This may result in banning the exchange centers from buying and selling foreign currencies and only allowing the banks to do so. Although they may sell and buy with the government price there will be one more problem. High demands may cause the banks to actually run out of Rials especially the ones located in IKA (International Imam Khomeini Airport).
 Irrespective of that, this can occur at any time and in any airport including Imam Khomeini Airport's banks and exchange centers.
Better safe than sorry!
 Human nature often deceives us in grabbing what's within our reach in the shortest time possible. Not that it's always bad but imagine this, you arrive at the IKA (Imam Khomeini International Airport) or any other airport packed up with jetlag, exhaustion, stress, anxiety, excitement and a blend of other things. Supposedly exchanging money at the airport is, in fact, the best option you have, have you ever thought about what might happen in the middle of a chaotic airport and your own chaotic mind? With all that mental, physical an emotional baggage you're carrying after a relatively long trip, you could hastily be making wrong or not entirely rational and conscious decisions especially regarding money and finances. So why not avoid that altogether and let it be taken care off after a well-deserved rest?
There are circumstances in which you have not exchanged your money in your travel origin prior to your flight. It may either be because you were not aware of these critical facts or you did not have the opportunity to do so. But you will obviously need a little bit of cash. Enough cash to pay for your transportation from Tehran's International Airport to any desired destination. For that, you can just exchange the approximate amount of money you will need. Only to get you to your hotel or any destination in the city. Just leave the rest for when you arrive in the city. There you will have plenty of exchange centers in Tehran's Ferdowsi Street to choose from.
If you're more of a modern person you'd prefer not to carry around cash notes with yourself. There's actually one mind easing option. With the MahCard Travel debit card, you can be on the safer side and save yourself the trouble of changing your money. Spending right from your debit card is a lot safer and puts your mind at ease.  You can sign up for the card online and from anywhere. Either from the comfort of your home or when you're halfway through your world journey. The card will then be delivered to you in your hotel when you arrive in Iran. So you won't need to worry about the timing of your card delivery.
Related Posts